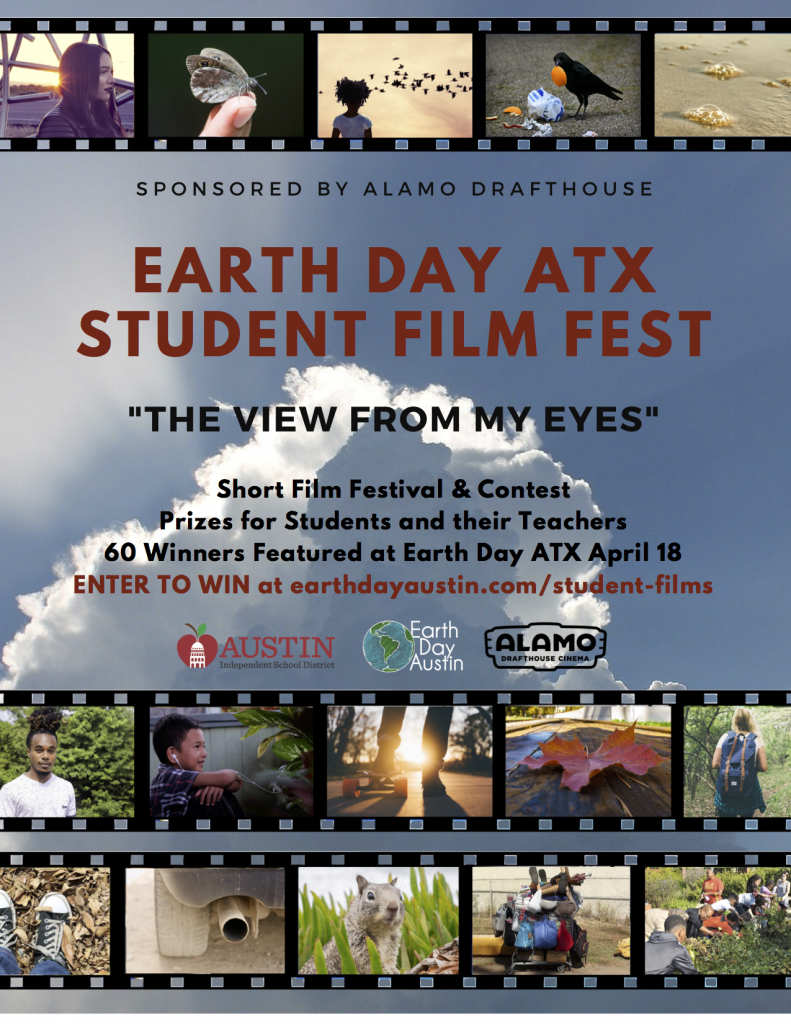 Contest Details

Prompts (Pick One):


Show us your very favorite thing about the environment / life that you want to protect, why you cherish it, and how you are connected to it. This could be an animal, plant, or other part of the natural world.
Show us something you see in the environment that concerns you.
How would you want the world to change? This could be a change you want to see in your community or in the world.
Show and/or tell us about an idea or vision you have for making the world a healthier / environmentally sustainable place for all of us?
Contest Rules:


Deadline for entries is midnight, March 25th.
Students must live in Travis County.
Students from outside AISD may participate.
Films should be no longer than 3 minutes.
Your film should have an introduction and conclusion.
This can be conveyed with text, imagery, and/or spoken.
No profanity or gratuitous stuff.
Films must have a title and credits showing your first name, last initial, teacher and school. (Students last names should not be used.)
Credits can be printed or spoken.
There does not have to be any narration or spoken word.
Film content must be appropriate for all audiences and ages.
The focus on the film must address a topic related to the environment or environmental justice.
Films will not be accepted without completion of the media release.
You are encouraged to submit a film in your first language.
Subtitles are welcome but not required.
Additional Guidelines for Great Filmmaking:


Keep it simple. A simple story well told can be very powerful and does not need a lot of extra stuff.
Tell the truth as you see it and say it the way you would say it.
Your voice and your view, just as it is, is powerful.
Ask permission before you film someone else.
Try to keep your camera steady. Adults get sick stomachs easily. :)
Give credit to those who help you.
Having a plan before filming can help you end up with a quality final film.
Editing will not be a judging criteria, but if you plan to do something more complex, you may want to think ahead about editing, get help from an adult or explore online tutorials. See links below.
Judging Criteria:


Adherence to contest rules Demonstrates a clear, unique point of view
The content or message is powerful, inspiring or thought-provoking
Creativity / artistic expression
The message is cohesive and understandable to a broad audience
When you are ready to submit your film, click the button below. You will first be asked to complete a media release form. Children under the age of 18 must have a parent complete the form. Upon completion of the form, you (if 18+) or your parent will receive an email that to the contest page provided by Film Freeway.